Le Chéile Day
Friday 8th April 2022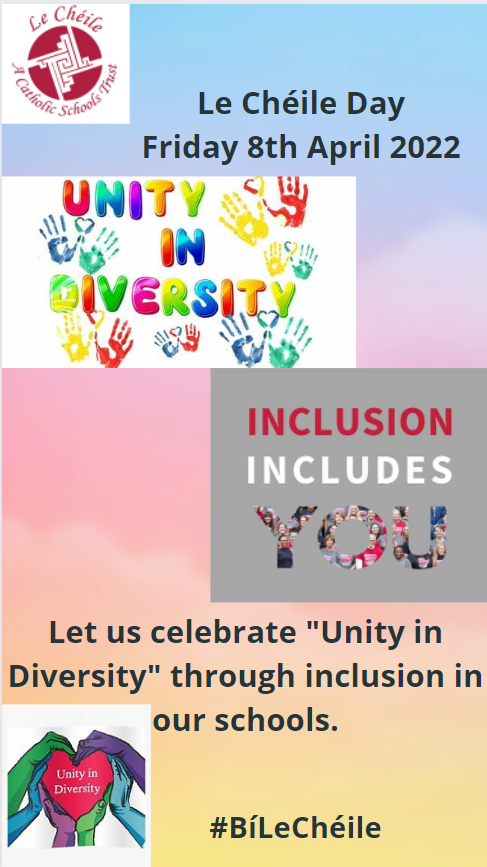 On Friday 8th April 2022, we will celebrate "Le Chéile Day". We are reminded of the meaning of Le Chéile, togetherness, uniting with a sense of community. The Le Chéile Charter captures the spirit in which the founding congregations came together to plan for the future. The togetherness and diversity of Le Chéile is evident in our symbol by the different pathways into a central maze.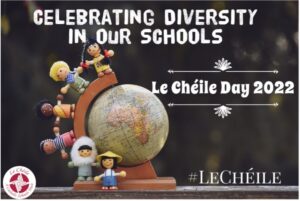 The theme for this year's Le Chéile Day is "Unity in Diversity". We are asking schools to celebrate inclusion, to recognise diversity, to applaud the empowerment and enabling of members of their school community.
The interpretation of inclusion can take different forms in each school, there are some examples to guide you below.
Buddy/Mentoring Programmes
Special Educational Needs
Our Different Cultures
Pride Alliance/LGBTQI groups
World Religions
People with Physical Disabilities
Age/Gender
People with Social, Emotional & Mental Health Needs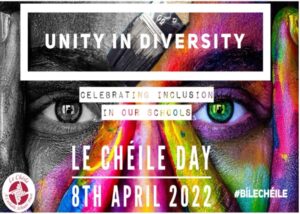 Le Chéile Leadership teams, staff and pupils will celebrate inclusion in a variety of ways on April 8th 2022. Pictures/videos/presentations are to be shared with us online through twitter @lecheiletrust1 or Instagram @lecheileschoolstrust using the #BíLeChéile or #LeChéileDay.