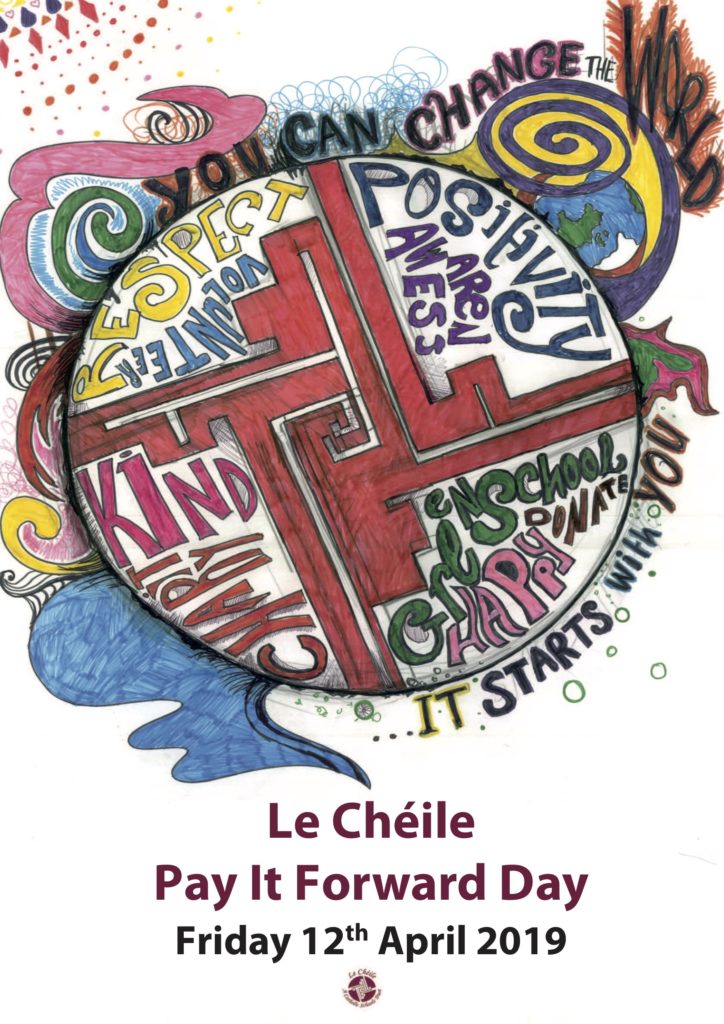 In recent years at our Le Chéile conference we introduced the idea of a 'Pay It Forward Day' in our schools. Previous Pay It Forward Days in our schools saw some very imaginative ways of creating a caring and serving community, some of which are documented in stories and photographs on our website.
This year we are hoping that even more schools will be involved. The theme of our conference is Welcome, Wisdom and Witness. The school has already worked on the theme of welcome in collecting photos, interviewing new students and teachers and writing a short narrative. At the conference, through the keynote speakers, workshops, liturgy and conversations, wisdom has been shared and sharpened. This wisdom now returns to each school and connects with the local wisdom of the school community. We are sent to continue to give witness within the world of our schools. This year, this might take the form of linking with another school during the week of the 'Pay It Forward' day and through a visit, skype, or activity – in whatever format you wish – to experience and make real again the great welcome, wisdom and witness that pervades the ethos of Le Chéile schools.
Our 'Anam Caras' act as the link person in our schools with Le Chéile in the area of ethos. The Anam Caras' have committed themselves to working with the students to mark 'Pay it Forward Day' in a practical way and work to complement the tradition of specific charity projects and activities rather than disrupt what is already working well. Gospel Values, as reflected in the Le Chéile Charter, are at the heart of the life of our schools. Accordingly, we invite the school on 12th April 2019 or during that week, to give witness and Pay It Forward.
Updates: In addition to the updates on our website our Anam Caras' will keep the school updated on suggestions and ideas.
Resources: Advertising Posters and Information Leaflets are enclosed and we will update our website with your suggestions.
For Further information: Contact the Le Chéile Office.