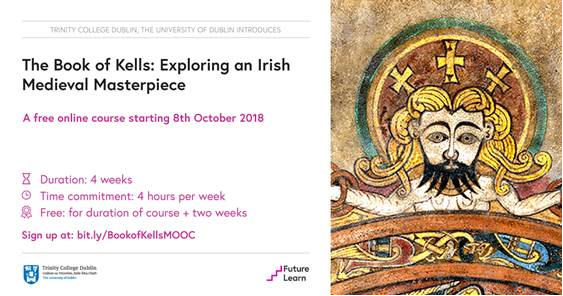 new, free, online course developed by Trinity College Dublin will allow learners worldwide to explore the history of Ireland through the remarkable Book of Kells — one of the world's most famous medieval manuscripts. Now members of the public around the world will have the opportunity to learn more about this precious manuscript through a new four-week online course. The "The Book of Kells: Exploring an Irish Medieval Masterpiece" course will commence on October 8th, 2018 and is run in partnership with Futurelearn, the social learning platform. The free online course is aimed at anyone with an interest in Ireland, medieval studies, history, art, religion and popular culture.
The Massive Open Online Course (MOOC) has been designed by academics from the School of Histories and Humanities, the School of Religion and staff from the Library. Using the Book of Kells as a window the course will explore the landscape, history, theology, and politics of early medieval Ireland and explore how that past is understood in modern Ireland.
Rachel Moss, Associate Professor in the History of Art and Architecture, and one of the course designers, commented: "Every year the campus of Trinity fills with expectant visitors, keen to see the world famous Book of Kells for themselves. There are few experiences to beat the experience of gazing on these precious pages, and imagining who else has shared that privilege over the past 1,200 years. The longer you dwell, the more detail reveals itself, and the more intriguing the manuscript becomes."
"In this course we look forward to being able to share the manuscript with those who have yet to see it for themselves, and share it again with those that have. The course will bring the learner beyond that initial encounter to explore its minute and intricate art, how it was made and what it might have meant to its makers. The course will not just dwell in the past. The manuscript is extraordinary in the way in which it has managed to grip the public imagination up to the present day. Despite centuries of scholarship, new research continues to disentangle some of the enigmas that it presents."
Learners on the course will explore the art, theology and materiality of the manuscript and the meanings that it holds. Each week the course will explore a different side of the Book of Kells; its history, how it was made, interpreting its images, and what the book means for popular culture today.
At the end of the course learners will be able to explain the function and meanings of medieval Irish art; understand how medieval manuscripts were made and engage critically with methodologies and scholarly debates which have shaped interpretations of the period. The course will also equip learners with knowledge of the distinctive features of the Irish Church in this era and an understanding of the visual, theological and historical characteristics of medieval material culture.
Fáinche Ryan, Assistant Professor of Systematic Theology and Director of the Loyola Institute, added: "Growing up in Ireland I always knew that the Book of Kells was a great Irish treasure. But it wasn't until I began to study it from the point of view of theology that I began to appreciate the wealth of insight to be gleaned from this important manuscript. It is a text both of great beauty, and of great learning."
"The more I learn about the Book of Kells the more amazed I am at the scholarship of the people of these islands, perched as it then was at the edge of the Western world. In this course we hope to share something of this 'learned beauty'. A particular richness of this course for me has been the opportunity to work with art historians and colleagues in the Library. The intersection of art and theology, and insights into the work of the custodians of the manuscript, adds greatly to the course."
Register for the course here: http://bit.ly/BookofKellsMOOC
Watch a course trailer here: https://media.heanet.ie/p/f6e0f46d919dcc12f51782b4a2251920